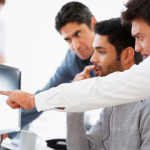 We, at Yuhiro Dedicated IT Staffing, often discuss and exchange ideas about what is important when working as a dedicated software developer. This blog post should therefore give some ideas and answers to the question "What skills does a dedicated software developer need to succeed at his or her job? "
In the following I will discuss shortly the 5 main skill, requirement and task areas.
Dedicated to high quality work
Clients in the area of Dedicated IT Staffing are oftentimes situated in Western Europe or the United States. This often calls for high quality in the work delivered because of the advanced work environments they developed over time. The globally acting professional should therefore have a focus on constantly delivering high quality work.
Ability to work independently
This ability is key for any globally working IT professional. Frequently the IT professional will be working on her/ his own. The international client oftentimes depends on the work of the co-worker and belives that the given tasks will be done in time. Therefore it should be possible for the person involved to work independently. Here the IT staff can showcase that he or she can actually "walk the talk".
Learning
Learning is important in today's work environment where technology is changing rapidly. We, at Yuhiro Global IT Staffing, encourage and support learning wherever possible. The dedicated software developer has to be a quick learner and be able to adapt to change.
Cope in a high performance environment
A thriving high performance environment is necessary to produce the results which are requested by international clients. Therefore the global IT professional has to be able to cope and thrive within such an environment.
Reporting
Reporting is one essential duty which has to be fulfilled by a dedicated software developer. The client which the IT professional is working together with will want to know where the previously discussed tasks have reached. Therefore a short daily report is needed. This report can be sent by E-mail or can be conveyed by a 10 minutes Skype session. Here the task which are finished as well the tasks which are going to be done the next day can be discussed.
These 5 areas (high quality work, independence, learning, high performance) are key for any IT professional who is working remotely in an international environment.
*Dedicated Software Developer: A dedicated IT professional who is working for a client from a remote geographical area. (e.g. A PHP Developer sitting in India and working for a company which is based in Sweden)