An Experience of life time: Internship @ YUHIRO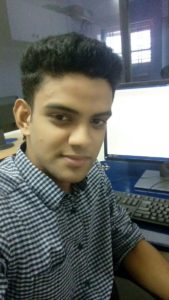 Things had not been the same since I took the decision of learning abroad. My classes would start in the spring of 2017, three months of vacation 'I giggled'. A new world, rare experiences waiting for me in the year of miracle. I was not a couch potato and I wanted to spent my time being productive and imaginative. I wanted an engagement like an internship perhaps. I was in cloud nine when I heard that I got into YUHIRO as an intern for Business development.
My happiness knew no bounds, but at the same time I was nervous. I was afraid that I might not come up to the expectations that they had of me. We never know what tomorrow has in store for us. I was eighteen, an age when your mind is clouded with the state of bewilderment.
My father said, "You Must Go". That's it, the die is cast. And I stepped into the world of Business where my physics and mathematics were replaced by sales and marketing. A world of profit and loss, success and failure, do hard work or perish.
There goes a saying, "First impression is the best impression". I wouldn't support it. My big day was very much near a disaster. I was nervous and was shivering from head to toe. Everybody said, "Relax.……. you are doing great". Maybe I was good or they just say it to ease my tension.
Days passed, I was no more new to the world of business. I became a part of it. For me this was an opportunity to access my skills and aptitude. To explore my talents and find out what really, I am capable of. Internship at YUHIRO had helped me a lot than I imagined the way it would benefit me. It helped me to practice my networking skills by establishing a network of professionals, meeting new people and experts in respective fields helped me to diversify my experience. The internship helped me to realize my dream, dream of creating You tube videos. I always wanted to vlog but I never had the courage or knowledge of doing it. Been always afraid of taking my next big step, regarding my higher studies that I wanted to pursue. But now I have a clear idea of what my career should be like. I never thought I could be so much focused towards the completion of a specific task.
Now I have completed a month in my internship. I feel happy to say that I have earned efficiency, self-confidence, and the guts to face any situations. It is this experience that helped me. A huge difference in my life. I feel gratitude to my father and YUHIRO for supporting and providing me with this life-time opportunity. Thank you all.
So, whenever you get a chance to do an internship, be it small/big firm, paid/unpaid, don't hesitate to do it. If you are looking for an exposure, a job-that brings you dignity and satisfaction after your studies – DO INTERNSHIP.
About the author: Alin Josias is currently working as Business Development intern at YUHIRO. He has finished his higher secondary schooling and is pursuing studies abroad after this internship.
Are you interested in an internship at YUHIRO? Kindly apply via info@yuhiro.de