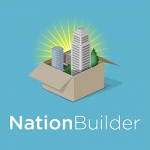 In recent times there is a lot of buzz around the relatively new platform nationbuilder.com. This article gives more insight on how the website works and what its benefits are.
What does nationbuilder.com?
According to nationbuilder.com's own statement it "offers easy-to-update websites, a people database and communication tools like email, text messaging and social media – all in one system."
The system is mainly used by nonprofits, governments and politicians to organize their communities and build relationships with customers, supporters and constituents.
Their stated mission is to "make everyone a leader".
NationBuilder believes that everyone should become a leader. The site gives a platform were for example political campaigns can be initiated and also managed. It includes inbuilt custom websites, an e-mail system, social media management, donation management and a database which holds all information. It's possible for the user to build e-mail lists, donor lists, volunteer lists and many more.
It acts like a project management tool as well as a CRM system
All interactions like phone calls, mails, emails, meetings with supporters can be traced back with the help of the platform. Also social media is incorporated into nationbuilder.com. That way the users, supporters or employees do not have to go through Facebook, Twitter and the other social media networks. They can do it all from nationbuilder.com. Some ideas seem to come from the online CRM system www.salesforce.com.
All supporters have an own profile
As every supporter has an own profile it is easy to see what their recent activities (like tweets, donations) were.
Includes a newsletter system
Similar to Mailchimp it becomes very easy to collect e-mail data and distribute newsletters in regular intervals. NationBuilder provides an inbuilt newsletter system for this.
Volunteer management
Volunteers are important to any strong cause. NationBuilder helps to manage the current and also the new volunteers who join the cause or the non-profit organization.
The platform also helps to assign different roles to the volunteers. Furthermore different tasks can be assigned to the volunteers. Through the inbuilt system feedback can be received.
Social Media is one important part of Nationbuilder.com
The site supports activists to turn followers in social media networks into political activists.
"We power your web site, and your data base and all your communication channels: e-mail, text messaging, Facebook, Twitter, canvassing, phone banking," says Joe Green, co-founder and president of NationBuilder. "It's not about having a separate online strategy and offline strategy, it's about having a single, integrated communication strategy."
NationBuilder makes it also possible to manage social media campaigns. The data from these campaigns can be fed into the database which in turn delivers actionable data.
Solution for small time campaigners
It is oftentimes not possible for an individual or a small group of campaigners to build an effective online campaign. Also communication is not effective as it is done through many different media channels like e-mail, social media etc. The platform helps small time campaigners to communicate more effectively with their supporters.
Pay per month revenue model
The platform costs 19 dollar per month for up to 10 000 users. This makes the platform interesting for virtually any political activist. The number of users is based on the number of supporters in the NationBuilder database for the specific campaign.
Bridging the offline – online divide
In the recent years there has been a focus on how to convert the online following into grass root political activists. NationBuilder has a strong focus on turning the online following, for example on Facebook or Twitter, into real world activists. This is a pain point of many political campaigners as they often have a large fan base and find it difficult to make those followers act in offline campaigns.
NationBuilder seems to be a good platform to manage campaigns and at the same time one has not to spend thousands of dollars or euros to do so. With NationBuilder a strong technology platform for managing campaigns can be had at a minimal monthly investment.
What is you opinion on NationBuilder?
The author is Sascha Thattil and works for YUHIRO. YUHIRO is a German-Indian software company which specializes in web- and online solutions.